The 6th Annual Baltimore Association of Black Journalists' #BABJHoliday party kicked off December 4, 2018 at Flight American Fusion restaurant in Govans.
This year's BABJ "party with a purpose" helped collect clothing and toiletries for Loving Arms – Maryland youth shelter in Gwynn Oak.
This was also a chance for BABJ members to catch up, fellowship and have a great time for a good cause.
Among the festivities, members played an impromptu Baltimore quiz game for prizes.
Those in attendance took time out acknowledge founders day for Alpha Phi Alpha Fraternity, Inc. and to wish Immediate Past President Nicki Mayo a happy birthday.
ME: I'm not having a birthday dinner party this year.
BABJ MEMBERS: … hold my beer. Oh you're having a birthday dinner party. We're making this a birthday dinner party. (NOTE: Please excuse the cleavage. I was having a good time.) Video via @sallycherry pic.twitter.com/ZEHSdz7AcG

— Nicki Mayo (@nickimayonews) December 5, 2018
Everyone left the event with a special limited edition #BABJHoliday ornament/magnet.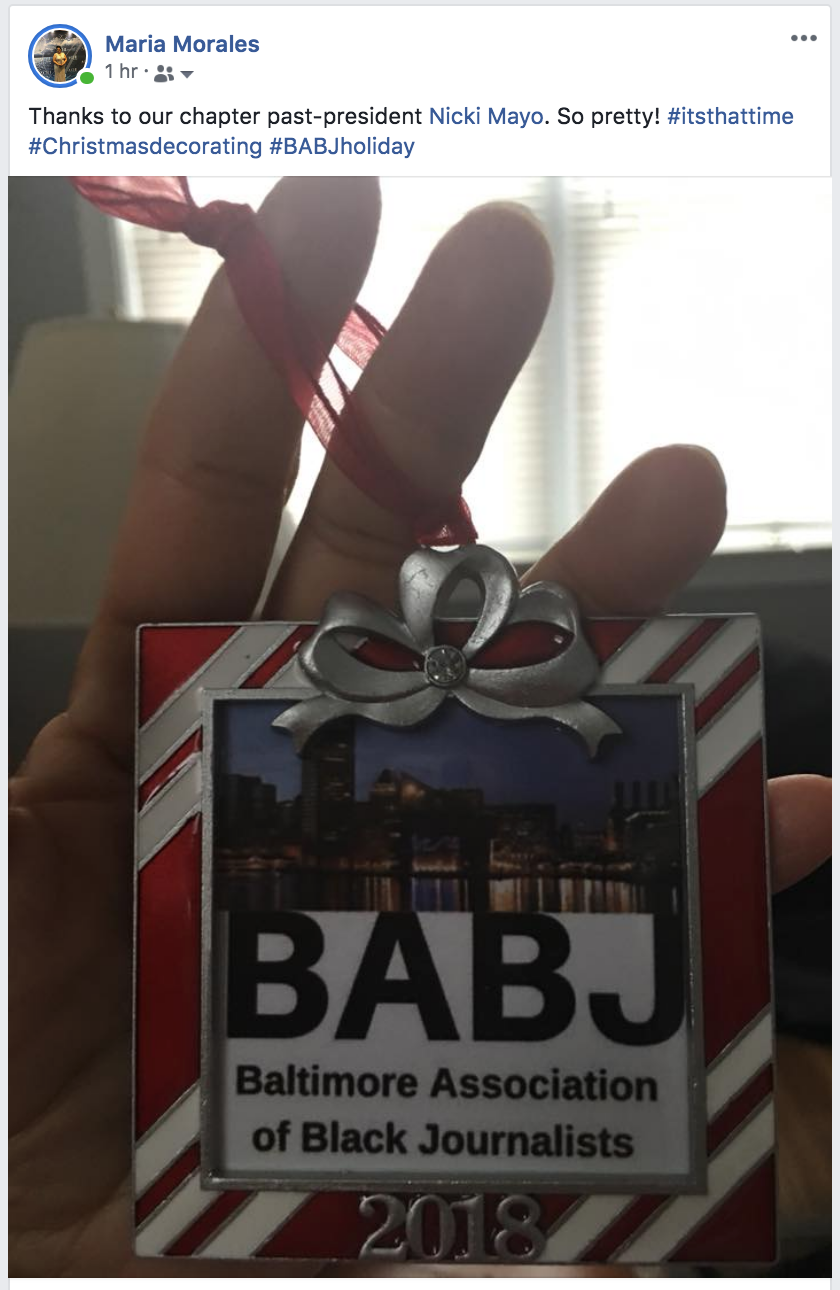 BABJ members and party guests donated nearly 120 items to Loving Arms.
Here is a complete itemized list of the 2018 #BABJHoliday donations:
#BABJHoliday Loving Arms Shelter Donation Inventory
1 girls coat

1 young women's sweatshirt

5 boys pajamas set

2 boys sleep pants

3 girls pajamas sets

29 individual pairs mens/boys underpants

29 mens/boys undershirts

12 pairs of women's underwear

27 pairs of socks
Toiletries
4 toothbrushes

1 toothpaste

2 deodorants

1 vaseline

1 lotion

1 skin care kit

1 pack of maxi pads (16)
Our BABJ Holiday Hangout History
BABJ started in the fall of 2013 and immediately jumped into a holiday tradition of having a "party with a purpose" to help Baltimore-area charities and efforts while supporting Black owned businesses. Here's a growing list of the #BABJHoliday efforts over the years.
2013 – In 2013 we celebrated the beginning for BABJ at Silo .5% (View photo gallery here)
We also teamed up with Philanthropix to benefit the Ronald McDonald House Charities. (View photo gallery here)
2014 – Our second #BABJholiday in 2014 BABJ collected gifts at Teavolve for the "It's Kindertime" Toy Drive. (View photo gallery here)
2015 – We hosted our 2015 #BABJHoliday at Flight American Fusion. BABJ continued the season of giving tradition with a coat and toy drive to benefit the Penn-North Kids Safe Zone in Sandtown. Several members also adopted 3 girls ages 8 and 11.
2016 – In 2016 we teamed up with Charm City Warmth Drive to help get winter protective gear to those weathering the winter on the streets. (View photos and video here)
2017 – Last year we collected and donated nearly 80 items to 2 Save Souls Records and Spirit 2 Spirit Ministries' 2018 blanket drive during our party at  13.5% Wine Bar.
2018 – BABJ collected more than 120 clothing items and toiletries for teens at the Loving Arms – Maryland youth shelter during our party at Flight American Fusion. (View photos here)
###