6th Annual #BABJHoliday
December 4, 2018 @ 6:00 PM

-

8:00 PM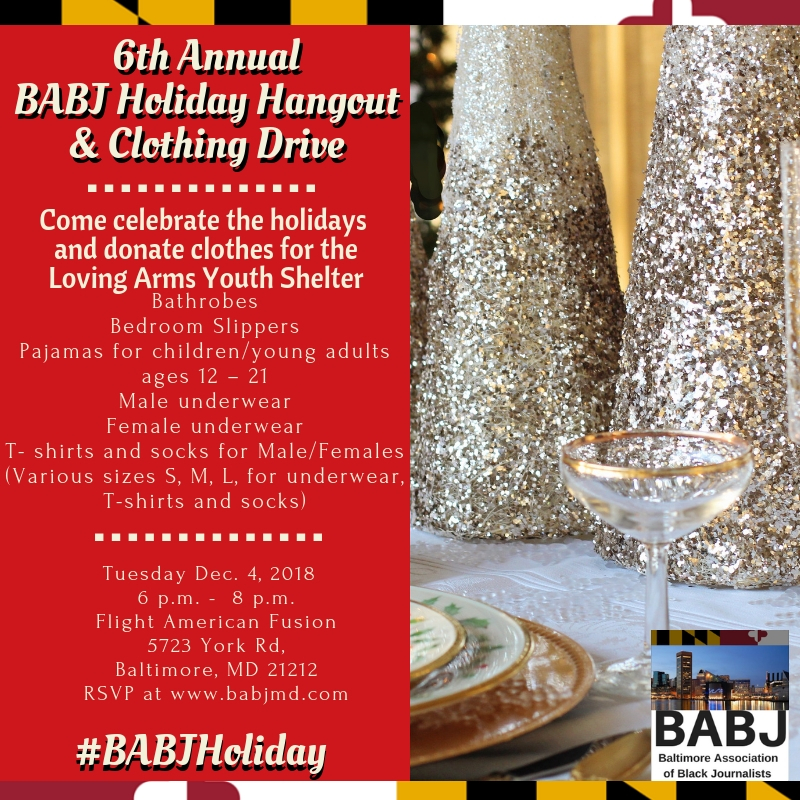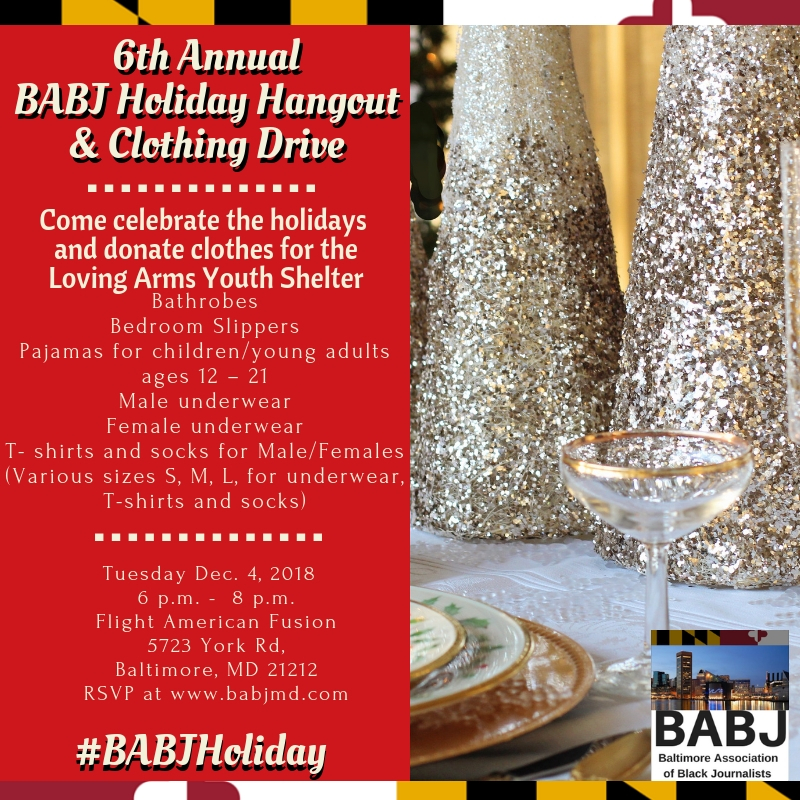 Join us Tuesday (12/4) for the 6th Annual BABJHoliday!
Our BABJ "party with a purpose" is Tuesday December 4, 2018 from  6 p.m. – 8 p.m. at Flight American Fusion, 5723 York Rd, Baltimore, MD 21212.
Loving Arms, Inc. is a 501 (c) (3), grassroots, community based organization located in Baltimore City, Maryland that provides short term, safe and nurturing shelter and supportive services (both residential and non-residential) to youth who are runaway, homeless, unstably housed and/or at risk of becoming homeless, and their families.
WBAL-TV report https://www.wbaltv.com/article/homeless-youth-numbers-grow-in-baltimore/8799838
WBFF-TV report https://youtu.be/IznIhbGPySM
Here's a link to the Loving Arms wish list http://lovingarmsinc.com/. It's a shelter that has a range of needs. For the sake of transporting donations, let's please stick to the "youth items needed" portion of their wish list.
Wish List
Youth Item Needs:  
Bathrobes
Bedroom Slippers
Pajamas for children ages 12 – 21
Male underwear
Female underwear
T- Shirts and Socks for Male/Females (Various sizes S, M, L, for underwear, T-Shirts and Socks)
Deodorant
Lotion
CAN'T MAKE IT TO #BABJHOLIDAY???
If you can not make it to the #BABJHoliday event Tuesday Dec 4th but would still like to donate. Please email babjmd@gmail.com with details as to where we may pick up the item(s) from you Tuesday during the day.
Please use the subject line " PICK UP DONATION – YOUR NAME."
EXAMPLE":
To: babjmd@gmail.com
Subject: PICK UP DONATION – Jane Doe."
Part of the reason to collect and have all the items in one place is for record keeping. As BABJ continues to grow we need to keep records of everything we do in the name of this budding organization.
See you Dec. 4!