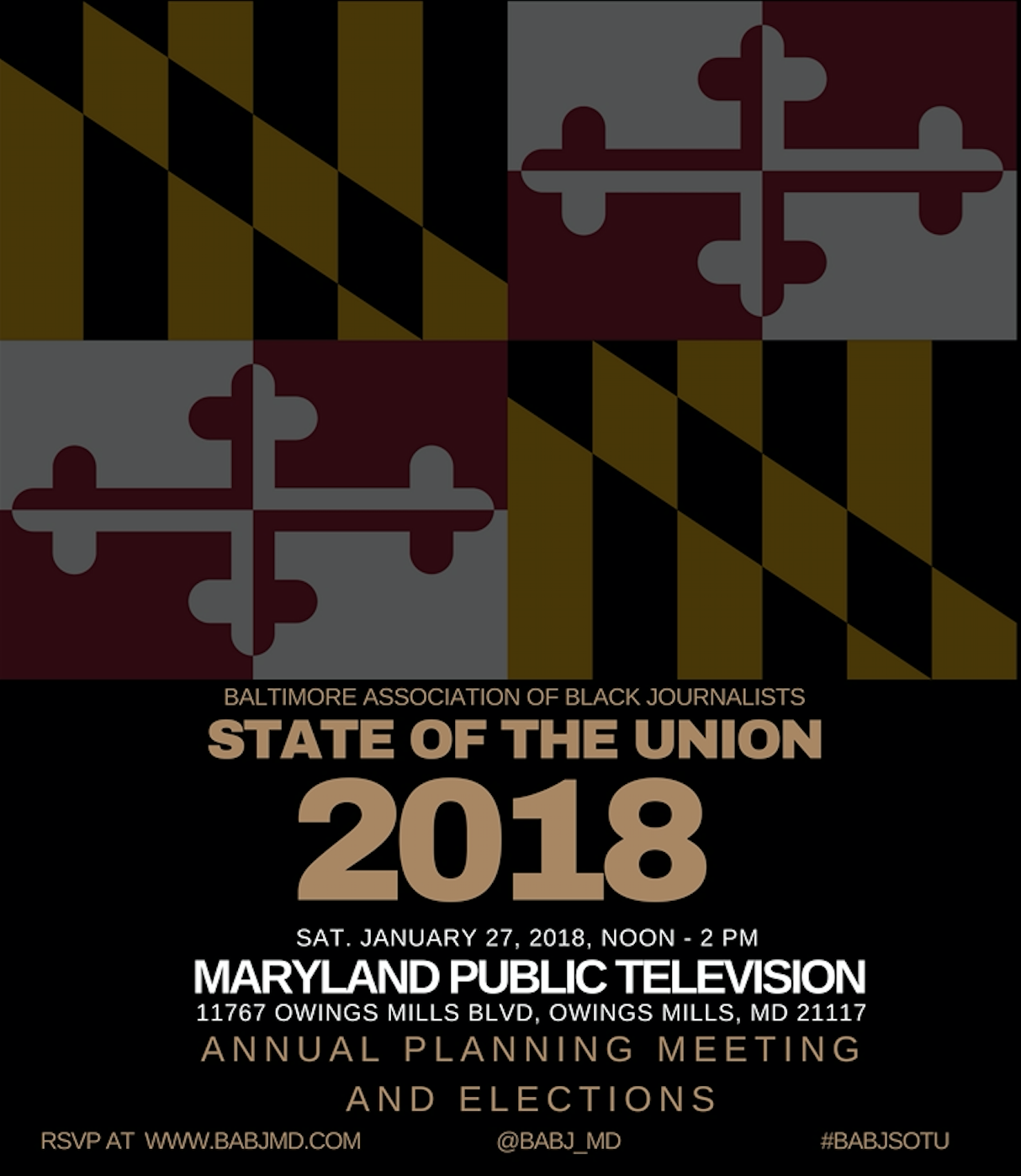 The Baltimore Association of Black Journalists will host our first general business meeting of the year, January 27, 2018 noon – 2p.m. at Maryland Public Television, 11767 Owings Mills Blvd, Owings Mills, MD 21117. Thank you MPT Vice President of Development Linda Taggart for helping to secure this venue.
PLEASE RSVP HERE: https://www.eventbrite.com/e/babj-state-of-the-union-2018-babjsotu-tickets-42256613669 
NOTE: Feel free to come early. A light reception will be provided starting at 11:30a.m. Also feel free to bring a snack or drink if you desire. We will begin promptly at noon so that we finish the meeting in time to end our planning discussion by 2p.m.
#BABJsotu
The January meeting will be our 3rd annual "BABJ 2016 State of the Union."
It's election time! Come ready to jump in and continue making BABJ a group success story. (We built this joint TOGETHER!)
This is a chance for US to design OUR agenda and activities for 2018 as a group.
The reasoning for #BABJsotu
As with last year, we established ourselves in the eyes of our local and national journalism peers. BABJ was recognized as a strong vibrant 2017 NABJ chapter of the year nominee.
We took a proactive roll to help ensure journalistic integrity and freedom of the press in Baltimore's City Hall when the former mayor instituted a reporter ban on an individual journalist.
Our membership has grown to nearly 100 dues paying members. We're ready to launch a membership renewal drive in February 2018. (Bravo Membership Chair David Steele!)
The BABJ Mentor Program continues to thrive helping local college students. (Bravo Mentor Program Chair Maria Pitts-Roberts!)
The NABJ Region 1 Conference heads up the road to New York City. This is a great time to have some input on the event, as our outgoing chapter president Nicki Mayo is one of the co-programming chairs for the spring event.
Mayo has her eyes set on bringing a BABJ Awards program to the chapter in 2018 as a major boost in fellowship and fundraising.
Let's make 2018 an amazing year for BABJ!
We hope to see you Saturday January 27, 2017 at noon.
Again PLEASE RSVP HERE: https://www.eventbrite.com/e/babj-state-of-the-union-2018-babjsotu-tickets-42256613669