The Baltimore Association of Black Journalists hosted our February 25, 2017 meeting at Morgan State University's School of Global Journalism and Communication.
This panel discussion was in collaboration with Society of Professional Journalists-Maryland Professional Chapter, Morgan State University's School of Global Journalism and Communication and Morgan State University Chapter of National Association of Black Journalists.
About 30 people attended the Saturday afternoon panel discussion "Journalism in the time of President Trump: Has Trump's administration changed the way journalists cover government?"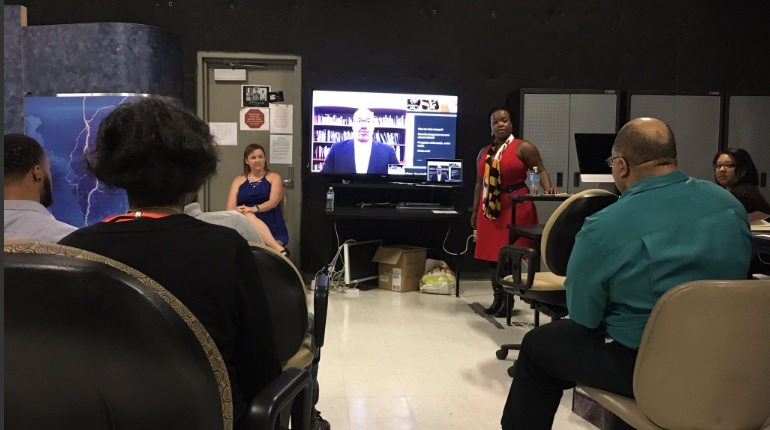 Two guests joined us for this journalism best practices and ethics discussion:
Dr. Jennifer Brannock Cox, President, Society of Professional Journalists- Maryland Professional Chapter and Salisbury University, Assistant Professor of Communication
Dr. Letrell Crittenden, Robert Morris University (PA), Assistant Professor of Communication.
Our panelists lead the discussion on the roles of journalists and whether these responsibilities have changed with the new White House administration.
The group viewed a video montague of clips from the last 10 days featuring controversial interactions between President  Trump and reporters, as well as POTUS' appearances.
The group also compared the Baltimore reporter ban at City Hall incident with recent efforts by the Trump administration to exclude certain members of the White House Press Corps from gaggles with the press secretary.
The group also broke down the role media ownership and company directives have had on press coverage of President Trump from the election trial to the White House. While much of the political coverage on "The Hill" has turned to reactions to criticism of new organizations, both guests stressed the importance of journalists resisting the "shiny objects" being used as distractions and the need to focus on the stories that serve to inform the public. The perceptions of the media, in the media also took center stage in the 90 minute discussion.
The final 30minutes were spent discussing ways to cover the White House when sources have proven to be unreliable using so called "alternative facts." The group also dissected the importance of independent media sources emerging online.
The meeting concluded with a NABJ Region 1 Conference giveaway sponsored by Nicki Mayo News LLC. Four NABJ members received free registrations to #NABJPhilly17. We're looking forward to seeing Karen Campbell, Akira Kyles, Terrence Smith and Korey Mathews in Philadelphia March 31-April 1, 2017.
Here's a storify showcasing the social media coverage from the event: