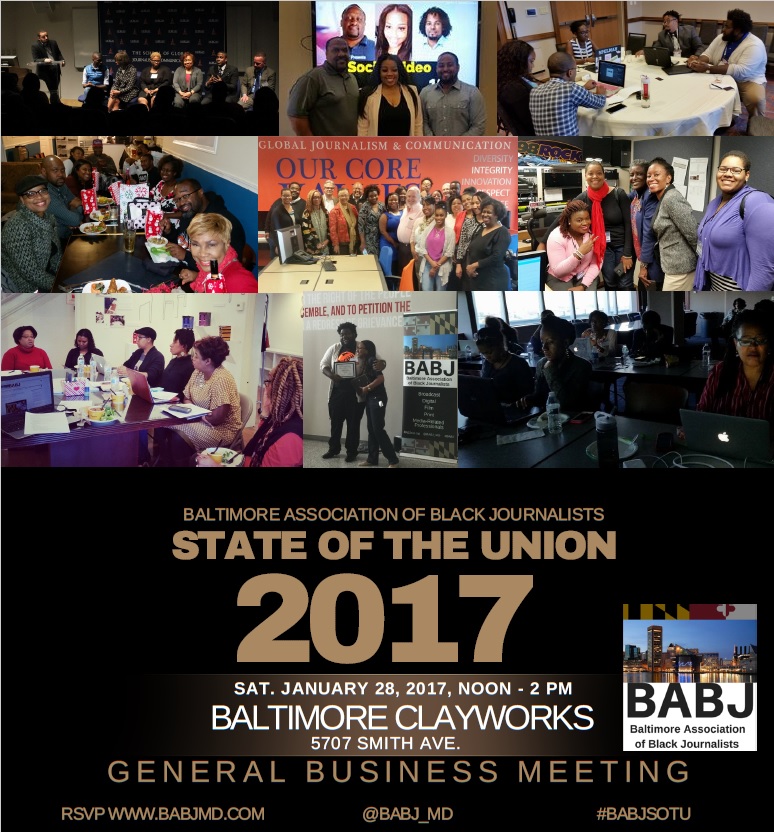 The Baltimore Association of Black Journalists will host our first general business meeting of the year, January 28, 2017 noon – 2p.m. at Baltimore Clayworks, 5707 Smith Ave., Baltimore, MD 21209.  Thank you Jannette J. Wittmyer for helping to secure this venue.
Please RSVP here:
NOTE: Feel free to come early. A light reception with deli sandwiches, chips and water and will be provided starting at 11:30a.m. Also feel free to bring a snack or drink if you desire. We will begin promptly at noon so that we finish the meeting in time to end our planning discussion by 2p.m.
#BABJsotu
The January meeting will be our 2nd Annual "BABJ 2016 State of the Union."
Not some stuffy speech, but a chance for US to design OUR agenda and activities for 2017 as a group.
The reasoning for #BABJsotu
As with last year, we have a golden opportunity in 2017 to make BABJ what we want it to be for Charm City in the future.
Our membership has doubled from 40 professionals and students this time last year to 80 dues paying members. (Bravo Membership Chair David Steele!)
We have a full BABJ Executive Board.
We have several mentee candidates participating in our 3rd BABJ Mentor Program class. (Bravo Mentor Program Chair Maria Pitts-Roberts!)
The NABJ Region 1 Conference heads up the road to Philadelphia. This is a great time to have some input on the event, as our chapter president Nicki Mayo is one of the co-programming chairs for the spring event.
Let's make 2017 an amazing year for BABJ!
We hope to see you Saturday January 28, 2017 at noon.
Again please RSVP here: