Summer 2016 was a great season for members of the Baltimore Association of Black Journalists. Now it's time to get back to business with our September meeting.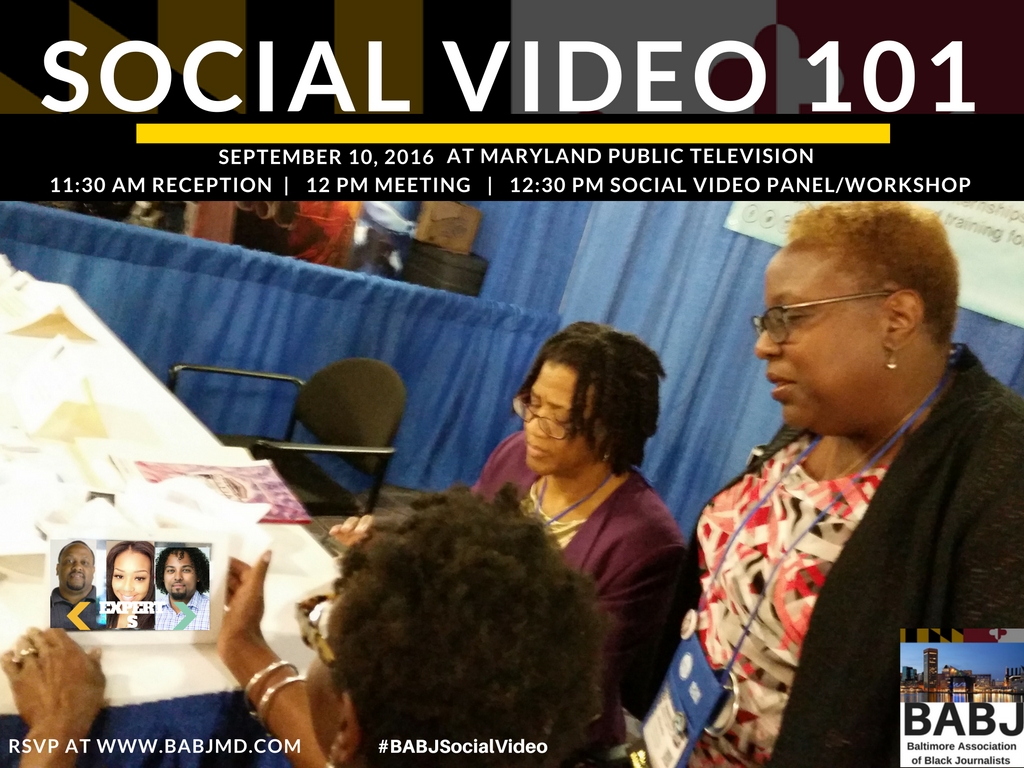 BABJ presents "Social Video 101" Saturday September 10, 2016 at Maryland Public Television.
11:30 a.m. Reception.
Noon General Business Meeting.
12:30 p.m. "Social Video 101"
Special guests:
Kevin Richardson, Baltimore Sun Multimedia Interactive Content Director
Jarrad Henderson, USA Today, Multimedia Producer
Teghan Collins, Circa Senior Social Media Editor
Additional guests TBD
Everyday auto-playing video news reports laced with graphics, transcribed interviews and music fill our social media newsfeeds. AJ+, Buzzfeed, Now This and more social videos have become an major part of news sharing online among various social media platforms.
September 10, 2016 The Baltimore Association of Black Journalists will discuss how news content creators use these trendy yet informative videos. The BABJ "Social Video 101" session will be held Saturday September 10, 2016 at Maryland Public Television, 11767 Owings Mills Blvd, Owings Mills, MD 21117, following our general business meeting which begins at noon.
NOTE: This is an interactive workshop so please bring your smartphones, mobile devices and laptops charged up and ready. We will have WiFi connectivity courtesy of Maryland Public Television.
RSVP here:
 https://www.eventbrite.com/e/babj-presents-social-video-101-tickets-27502642143 
Special Guests Biographies
The Transitioning Traditional – Kevin Richardson @KRichardsonMMA
Baltimore Sun Multimedia Interactive Content Dire
ctor Kevin Richardson has been with newspaper nearly 20 years. He as helped usher his newsroom into the video age, training staffers to use video editing
programs and apps in the field. Thanks to Richardson's leadership, many Sun reporters and photographers are now comfortable using mobile apps and video editing software such as VideoLicious, iMovie and Adobe Premier to enhance and advance their print stories. Here's Richardson's bio http://www.baltimoresun.com/bal-kevin-richardson-bio-story.html .
The Artsy Documentarian – Jarrad Henders
on @jarrad_tweets
USA Today Multimedia Producer Jarrad Henderson  and his team use several video editing apps to make stories pop online. Henderson is also a leader in the NABJ Visual Taskforce and well versed in still photography and documentary films. Here's a link to his website http://www.jarradhenderson.com/video .
The Mobile Innovator – Teghan Collins @TeghanSimone
Circa Senior Social Media
Editor Teghan Collins helps lead a team of multimedia journalists creating social videos that are tailored for smart phones and mobile devices. Auto-play, text, graphics and music are becoming standard staples of these online videos. Here's Collins' bio: Teghan Collins is a self-proclaimed foodie, Pop Culture addict and social media junkie. As the Senior Social Media Editor at Circa she brings news and visual storytelling to millions of mobile phones and timelines. Previously, Teghan was creating viral content as the social media manager at WKRC-TV in Cincinnati. Before hopping into news,  she worked in public relations, managing social accounts for well-known brands and celebrities.
——-
Here are some examples of how some area newsrooms are using social video and editing apps.
Why Is Simone Biles the World's Best Gymnast? | Rio Olympics: The Fine Line | The New York Times
Cops and Kids Softball Game
Preston: The Importance of Preseason for the Ravens
Unsettled Journeys trailer
G-O-O-D-L-U-C-K 2016 SCRIPPS National Spelling Bee
#VeteransForKaepernick trends on Twitter
You Can Get Trained to Take Down an Active Shooter
Facebook Thinks it Can Guess Your Political Views
###